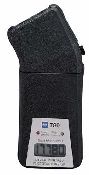 TIF Infra-red Photo-tachometer Shown
Many companies and models available
So that you actually know that you are using correct data, you will need to have, borrow, or purchase a Photo Tachometer. I recommend you include one with your boat tools. They are not expensive and prove very valuable over time. Many tool suppliers including Sears (Craftsman) sell them. You cut off a small piece of reflecting tape that comes with the tool and stick it on the pulley you desire to check the RPM (crankshaft pulley for engine rpm) for. Place the reflecting tape so that it is visible on a straight line from you. Point the photo tachometer at the flywheel (reflecting tape) and push the button. The photo-tachometer display will show your RPM digitally - exactly! Real simple.