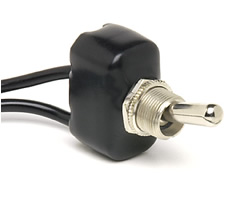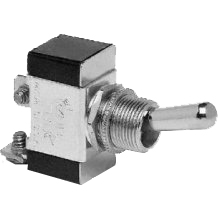 • Look at the pictures to the left, It really is that simple. They are two versions (one has wires attached, other screw tabs) of the same switch. The Screw tab version is the Cole Hersee Company model #5582-BX. It is rated at 25 amps @ 12vdc.

• Per the MaxCharge regulator manual, The Ignition (BROWN) wire is connected to the engine key and serves as the ON/OFF switch for the regulator. It will have no voltage when the engine key is off and have battery voltage when the key is on.

• As a

ZRD preferred alternative

, instead of connecting the brown wire to the engine key or a pressure switch, attach it to one side (cold) of a user supplied switch (such as the on/off switch shown in the picture). Attach a user supplied wire to the other side (hot) of the switch and connect it to the positive (red) terminal on the battery or alternator.

• This simple switch allows the user much flexibility in deciding when, how, why, ... the alternator should be supplying power for loads or charging. On smaller vessels with smaller engines, this is sometimes critical to gain extra power when needed. Turning off the engine key would not be a realistic option.